Alaska




Ketchikan and the Tongass Narrows in 1905. Source: National Archives.
Associate Pages
Visitor Statistics
Alaska National Historic Sites

1. Klondike Gold Rush National Historic Site - Alaska (#87 Most Visited) - 912,351
2. Denali National Park - 587,412 (#110)
3. Glacier Bay National Park & Preserve - 520,171 (#122)
4. Kenai Fjords National Park - 346,534 (#148)
5. Sitka National Historic Park - 217,141 (#182)
6. Wrangall-St. Elias National Park & Preserve - 79,047 (#254)
7. Katmai National Park - 37,818 (#310)
8. Lake Clark National Park - 21,102 (#336)
9. Noatak National Preserve - 17,000 (#341)
10. Kobuk Valley National Park - 15,500 (#344)
11. Cape Krusenstern National Monument - 15,000 (#345)
12. Gates of the Arctic National Park & Preserve - 10,047 (#357)
13. Bering Land Bridge National Preserve - 2,642 (#370)
14. Yukon-Charley Rivers National Preserve - 1,146 (#372)
15. Aniakchak National Monument & Preserve - 100 (#374)

Source: NPS 2016 NPU (National Park Unit). Rankings among 374 National Park Units.



Park Size

Klondike Gold Rush NHS - 3,420 Acres Federal; 12,996 Acres Total

Glacier Bay NP & Preserve - 3,281,424 Acres Federal; 3,283,246 Acres Total

Denali National Park - 4,724,791 acres Federal; 4,740,912 Total

Sitka NHP - 112 acres Federal/Total

Kenai Fjords NP - 601,709 acres Federal; 669,983 Total

Katmai National Park - 3,611,608 acres Federal; 3,674,530 Total

Wrangall-St. Elias NP & Preserve - 11,665,271 acres Federal; 13,175,901 acres Total

Yukon-Charley Rivers National Preserve - 2,183,173 acres Federal; 2,526,512 acres Total

Gates of the Arctic NP & Preserve - 8,214,302 acres Federal; 8,472,506 acres Total

Lake Clark NP - 2,226,807 acres Federal; 2,619,733 acres Total

Kobuk Valley NP - 1,669,913 acres Federal; 1,750,717 acres Total

Noatak National Preserve - 6,276,170 acres Federal; 6,569,904 acres Total

Cape Krusenstern NM - 588,402 acres Federal; 649,085 acres Total

Bering Land Bridge National Preserve - 2,537,672 acres Federal; 2,697,393 acres Total

Aniakchak NM & Preserve - 577,039 acres Federal; 601,294 acres Total

Note: Klondike Gold Rush NHS acreage includes Seattle location.


Alaska
All anyone ever told me when I was in grade school was that Alaska was Seward's Folly. Well, we all know by now that was not true. Abundant in natural resources, not only of the kind below the ground that makes men rich, but of the kind that keeps the history of the land alive, as it was and has been for thousands of years. Like no other state in the nation, Alaska abounds in spots where time has almost stood still, where wildlife, and at times, brutal nature takes hold of the world and grips tight.
Sponsor this page for $100 per year. Your banner or text ad can fill the space above.
Click here to Sponsor the page and how to reserve your ad.
Info
Then and Now
Things You Should Not Miss



The National Park System in Alaska holds over 47 million acres of land, ... you'll never see it all, but it weaves a thread around the history of the state, the largest state in the Union, from the times when the Aleuts, Eskimos and Indians were the only people there, through the days when Vitas Bering claimed the land for Russia in 1741 and Russian fur traders would enslave the Aleuts, or during the days past that folly of a transaction, in 1867, when the United States purchased the land for 2 cents per acre, a total of $7,200,000.

The days under the control of the United States have witnessed a gold rush, the only invasion by foreign soldiers on U.S. land by the Japanese in 1942 during World War II, the rise to statehood that took from 1946 to 1959 to approve, large natural disasters like the earthquake and tidal waves of 1964, and man-made tragedies, such as the Valdez oil spill. Through it all, the history of the land has remained its largest asset, never to be deterred, and the wilderness aspect to the rich variety of landscapes, from tropical rain forests to glaciers, makes the history of Alaska one of ever-changing and constant aspects all at the same time.



Alaska History Timeline

1784 - Russians establish the first white settlement on Kodiak Island.
1867 - The U.SA. purchases Alaska from Russia.
1897 - The Klondike Gold Rush begins.
1923 - The Alaska Railroad was completed.
1959 - Alaska becomes a state.





Alaska Then

The Native Alaskans - Pictured top above of Knik Chief Nikaly and his family, in Anchorage 1905. Life by 1905 for most native Alaskans was better than it had been during the Russian era, but marginally so. Both the Klondike and Alaskan gold rushes were all but petered out by this time and the era of fish canneries and copper mining was just beginning.

Settlement and Towns - By the beginning of the 20th century, the vestiges of settlement had begun to take on the aspects of traditional United States life in the lower states as the postcard of William Duncan and his church and town of Metlakahtia, Alaska denotes. Photo below left.

The Tourism Industry Begins - Among the photographs in the booklet, "A Trip Through Alaska," the picture of Treadwell, Alaska pictures (below center) shows scenes meant to entice tourists north in 1905. Not so different from today.





Alaska Now

There are so many national parks and historic sites within this huge state that it's almost impossible to visit them all. See the list on your left and the links below. They are varied and far apart. To the right is a list of some of the best, although for most, they have their favorites, which may not be on that list. Below is a list of the national parks in the state. Some of rarely visited, as you can see in the visitor statistics section above. Oh, yes, they are visited by a lot of wildlife, including cariboo and polar bears and a whole lot more, too.

Alaska National Historic Sites List
Klondike Gold Rush National Historic Site - Alaska
Denali National Park
Glacier Bay National Park & Preserve
Sitka National Historic Park
Kenai Fjords National Park
Wrangall-St. Elias National Park & Preserve
Katmai National Park
Gates of the Arctic National Park & Preserve
Noatak National Preserve
Lake Clark National Park
Kobuk Valley National Park
Cape Krusenstern National Monument
Yukon-Charley Rivers National Preserve
Bering Land Bridge National Preserve
Aniakchak National Monument & Preserve

Photo above: Mount Katmai Volcano today in Katmai National Park. Courtesy National Park Service.



Alaska




1. Denali National Park and Preserve - Located between Anchorage and Fairbanks, Denali includes the Alaska Range and Mt. McKinley, North America's highest mountain at 20,320 feet high. A visitor center services guests on the north side of the park from late April to the end of September. Expect to encounter wildlife here ranging from grizzly bears, wolves and moose. The park is accessible by car along Alaska Route 3, and by train to the park entrance, the Alaska State Railroad (Picture above). There are sled dog demonstrations several times per year, ranger-guided walks, and an orientation slide program at the Visitor Center.

2. Glacier Bay National Park & Preserve - The spectacular scenario of Glacier Bay with its flow of glaciers and snowcap mountains rising 15,000 above sea level provide an awe inspring treat for visitors to Alaska. With its diverse habitats and wildlife, Glacier Bay provides a glimpse into a world far away from the experience of most continental visitors. The visitor center is open from late May to early September, with the remainder of the park open all year. There are no roads to Glacier Bay National Park and getting there must be done by plane or boat. Once there, the best way to see the park is by boat, with a day long journey provided by a park concession. There is no entrance free the park itself. Glacier Bay is located north of Juneau on the north end of the Alaska panhandle.

3. Klondike Gold Rush National Historical Park - Located in Skagway, northwest of Juneau, the Klondike Gold Rush National Historical Park, the park includes a six block historical district within the town itself, the Dyea ghost town, and the Chilkoot trail. The 15 restored buildings within Skagway from the 1897 gold rush era. Klondike is the most visited of all National Park Service parks in Alaska and is easy to get to, by car via the Klondike Highway, or by small plane, the Alaska Marine Highway, or train/bus during the summer months. It is no longer necessary to carry 2,000 pounds of supplies over the Chilkoot Trail to get there.

4. Sitka National Historic Park - Located in a temperate rain forest, this oldest of the Alaska federal parks commemorates the final major conflict between Europeans and the Alaskan natives in the 1804 Battle of Sitka. The smallest of the NPS parks in Alaska, Sitka should not be missed for its 1843 structure, the Russian Bishop's House, the Memorial to the Russian Midshipmen and the trails along the Indian River. Open year round, although some programs are by appointment only from October to mid-May. Located on Baranof Island on the southeast panhandle and available by sea or land only.

Photo above: Klondike Gold Rush Visitor Center. Courtesy National Park Service.
Visitor FAQ
America's Best History Travel Tip
Get outside. One of the best parts of a National Park vacation is spending time in the fresh air. There is no doubt that a lot of U.S. history is steeped in the historic sites of Philadelphia, or Boston, or Washington, D.C. where our forefathers spent time in brick buildings and cobblestone streets, however, one of the best things about American history is the history of the land itself. This is where Alaska shines. Take advantage of it, ... nature, at its most glorious.


Lodging and Camping
The opportunities to fish, nature watch, and just plain enjoy the grand vistas of Alaska abound all over the state and there are a variety of lodging and camping opportunities everywhere. Remember, the tourist season, past those looking for winter fun, is relatively short, but it is grand. Check out the various travel websites and tourists organizations listed on this page and others for the best opportunities for you. And be careful, this is a wild and wonderful land. For accommodations, check your favorite online travel site, like Expedia, for the best option for you.

Image above: Travel photo for Treadwell, Alaska in 1905.
Photo above: Alaska College Fjords.
T-Shirts and Souvenirs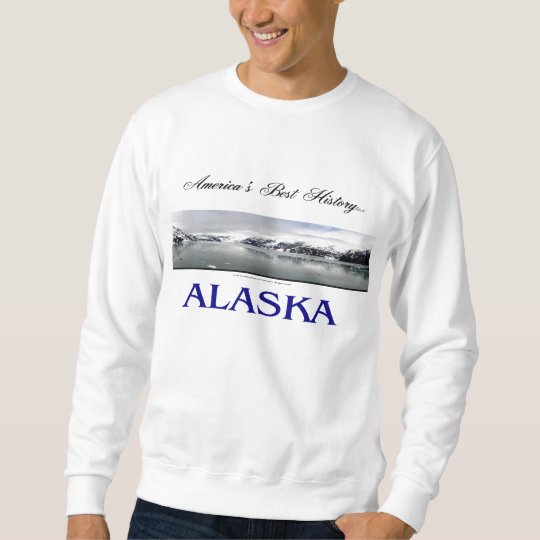 Alaska T-Shirts and Souvenirs from the official merchandise of America's Best History.
Shop Now