Cuyahoga Valley National Park




Historic view of one Canal Lock within Cuyahoga Valley National Park. Image courtesy National Park Service.
Associate Pages
Visitor Statistics
Cuyahoga Valley National Park

2,423,390 visitors
#41 Most Visited National Park Unit

Source: NPS, Rank among 374 National Park Units 2016.



Park Size

20,399 Acres Federal; 32,571 acres Total



Park Fees

Free with some additional charges for concerts and programs.

Fees subject to change without notice.



Weather

Summer - It's general midwest and northeast weather with humid weather and temperatures that can reach into the 90s. Dress appropriately and pay attention to the local weather forecasts. Winter can bring quick changes due to the lake effect snow from Lake Erie.

Photo above: The Cuyahoga Valley Scenic Railway in mid steam engine blow as it plies through the park. Right: Nature's stone work in Cuyahoga Valley National Park. Source: National Park Service.
Cuyahoga Valley National Park
It was a landscape of time and temperature located equi-distant between Akron and Cleveland, Ohio. And it many ways, it represents all the history that tied those two towns together. A canal towpath for commerce that now allows recreation to bike or hike its path. A railroad that came thereafter to make the trip for commerce and passengers easier than the canal or horse and buggy; today it's a scenic railroad. And then there's the river itself, that marked the way for all that, before and after those eras, telling the settlers where they should build mills, homes, and business. Today, those thirty-seven miles of Cuyahoga River marks the center of a National Park that defines the distant between those two cities, but somehow, like many parks, does not get a dramatic turn on a national scale to its importance in the region's growth, although it does get many in the area to visit its charms, nature, concerts, and ranger guided activities. If you're driving through, stop by and see what all the local history fuss is about.


Sponsor this page for $100 per year. Your banner or text ad can fill the space above.
Click here to Sponsor the page and how to reserve your ad.
Info
Then and Now
Things You Should Not Miss



Between two cities once known most for their industrial might sites Cuyogaha Valley National Park. It's an expanse as much about reclamation and restoration as it is about nature or history. It's a new park, in relative terms, established in 1974 as a National Recreation Area (we won't go into what denotes what designation in the National Park system here; it can get confusing) and was elevated to a National Park in 2000. In many ways this park, in which the Cuyahoga River winds, has been both a recreation place and a historic place since western settlement began. While the canal, when built, provided transportation for goods between the Ohio River and Lake Erie, it did not take long before carriage rides and canal boat journeys became a leisurely exploit for city dwellers looking for a day out. Now, that exploit has become its mission, a mission that began with a 430 acre donation by Hayward Kendall around the Ritchie Ledges in 1929. It grew with the work of the Civilian Conservation Corps during the next decade and continues today with its over 20,000 acres of permanent preservation for the public pursuit of recreation, nature, and its historic past.

Photo above: Cuyahoga Valley is a place for winter activities as well as seen by the Kendall Winter Sports Center in snow. Source: National Park Service.





Cuyahoga Valley National Park Then

When the Ohio Valley was settled, it required transportation to take goods and services from one location to the next. Starting in 1825 and for seven years after, the Ohio and Erie Canal was built to allow the area to prosper and grow. It ran from Lake Erie at Cleveland to the Ohio River at Portsmouth. Of course, progress would make the canal an afterthought, replaced by the railroad, and then by the highway and plane travel. After it was abandoned, nature started to reclaim it, including the beaver. Just ask them how the Beaver Marsh was created, even though at one time it had been a junk yard.



Cuyahoga Valley National Park Now

Today it's a park to explore for nature and history. Yes, you can now visit Beaver Marsh, reclaimed by those pesky critters with one heck of a work ethic. Wetlands from junk yard and one beautiful place to visit. Of course, some of the natural features here have been around through all the eras, including Brandywine Falls and its sixty-five foot drop and the Ritchie Ledges. Mills (Wilson Feed and Jaite Mill), houses (Stanford, Frezee, Hunt), and bridges (Everett Covered) also mark the National Park at various turns, and then there's the canal history story told at the Canal Exploration Center, with exhibits that explain just how that era impacted the commerce and people of Ohio.

Photo above: Historic view of the suspension bridges along the Cuyahoga Valley railway. Photo courtesy National Park Service/Historic American Building Survey.
Cuyahoga Valley National Park




1. Take a ranger guided tour. One of the best ways to explore the area is with a guide. And while it's not necessary, as you can easily hike the Towpath Trail on your own, or bike it, the nature and history that you pass is so much better explained. There are early evening hikes, full moon hikes, and hikes to sandstone cliffs, among others.

2. Bike (or hike) the Ohio and Erie Towpath Trail. It's twenty miles long and you won't have to mule tow a canal boat. But if you get too tired from whatever pursuit you're enjoying, you can even catch a train for the ride back. For bikers and hikers, there's a discount to the All Day Pass fee.

3. Take a scenic trian ride on the Cuyahoga Valley Scenic Railroad. The All Day Pass allows you to get on and off and explore various parts of the park. Currently (2016) $15 per adult, $10 per child.

4. Take in a music concert or art exhibit. Yes, unlike most National Parks, this is an artsy place. Concerts are held at the Happy Days Lodge. Art exhibits at various locations.


Visitor FAQ
What's There Now
Cuyahoga Valley National Park

Three Visitor Centers are located within the park, covering different aspects of the history and recreation in the area.

Boston Store Visitor Center (Center Park location) - Exhibits, park orientation, tour and talk schedules, plus merchandise are located here. It was built in 1836 by the Kelley Brothers to take advantage of the commerce along the canal.

Canal Exploration Center (North end of Park) - This visitor center was once a general store, tavern, and restaurant. It now has canal themed exhibits.

Hunt House (South end of Park) - Located along Towpath Trail, there are child friendly nature exhibits here.

Peninsula Depot - Centrally located location along the Towpath Trail.

Kendall Winter Sports Center - Open weekends in winter when there's four inches of snow on the ground, plus days during the winter holidays and some Monday holidays.

Photo above: Stanford House, one of the lodging choices around Cuyahoga Valley National Park. It can be rented for day or night uses. Photo courtesy National Park Service.
Directions to the Park
Cuyahoga Valley National Park has three visitor centers; Boston Store, the Canal Exploration Center, and the Hunt House. Start your visit at the Boston Store, which is located at 1550 Boston Mills Road, Peninsula, OH 44264. From Cleveland, you would take I-77 South for 15.5 miles, then Exit 147 onto Miller Road (left), .6 miles. Right onto Brecksville Road (Ohio 21) for .4 miles, then left onto Snowville Road for 2.8 miles. Right onto Riverview for 1.7 miles, then left onto Boston Mills Road. Visitor Center parking lot is on your right. For other routes, check your favorite GPS or map program. The park is located between Akron and Cleveland.
Lodging and Camping
Lodging - A few directly inside the park, but many options on the perimeter. Check out your favorite online lodging site such as Expedia for the lodging type of your choice. Inside the park, there are bed and breakfasts, including ...

Inn at Brandywine Falls (1848) - 6 room Bed and Breakfast.

Silver Fern Bed and Breakfast (1874) - Technically outside the park boundaries, but very close.

Stanford House - Nine bedrooms. Can be rented for day and night use.

Camping - There are only five primitive campsites inside the park. Check with a visitor center about using one of them. State park campgrounds and private campgrounds are located within a one half to one hour drive.
A sand and gravel pit of an abandoned mine within the boundaries of Cuyahoga Valley National Park. Photo courtesy National Park Service.


T-Shirts and Souvenirs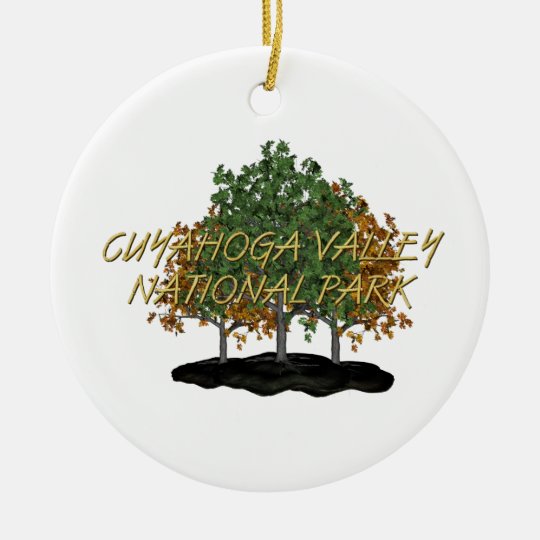 Cuyahoga Valley National Park T-Shirts and Souvenirs.