Lake Mead National Recreation Area




Boats on the water at Lake Mead. Image courtesy National Park Service.
Associate Pages
Visitor Statistics
Lake Mead NRA

7,175,891 visitors
#7 Most Visited National Park Unit

Source: NPS, Rank among 374 National Park Units 2016.



Park Size

1,470,913 Acres Federal; 1,495,806 acres Total



Park Fees

Private Vehicle (7 Day) - $20
Motorcycle (7 Day) - $15
Individual (Bike/Walk 7 Day) - $10
Annual Park Pass - $40
Camping Fee Additional

Fees subject to change without notice.



Weather

Summer - Great care should be taken in summer at Lake Mead due to the excessive heat with average temperatures between 89 and 103 degrees (some days higher). Spring can also claim days closing in on 100 degrees. Take care. Bring enough water and sunscreen and recreate to your capabilities.

Photo above: View through the canyons at Lake Mead NRA. Right: View of Callville Bay at Lake Mead National Recreation Area. Source: National Park Service.
Lake Mead
It was a dramatic turn of events in 1928 when the history and landscape of the desert near St. Thomas, Nevada was legislated to change forever. With the construction of Hoover Dam and the Colorado River now kept behind most of it, Lake Mead rose over several years, submerging the town and creating one of the most attended National Park Service units in the nation. Miles and miles of water cover what used to be Nevada desert, and even with the recent drought that allowed the town of St. Thomas to come back to the surface in ruined form, the area provides a plethora of recreation activities from boating to camping to hiking to a retreat by a lake, plus that history of the town and the dam and the river that preceded it.


Info
Then and Now
Things You Should Not Miss



It's one hundred and forty miles long split into two lakes, Mead and Mohave and desert steaming at its edge for all of that shoreline. If full, it's the largest reservoir in the United States, although it has not been full since 1983. Lake Mead has only been known by that name since 1964, prior to that it was Boulder Dam Recreation Area since its inception in 1936. Of course, prior to that park's founding, this was a settlement known in the northern area of the park as the town of St. Thomas, now a ghost town due to the flooding.

For most of its seven million visitor each year, Lake Mead National Recreation Area is a variety of water based fun only thirty minutes from Las Vegas, although the overlap of visitors seeking this recreation after a nightclub visit to see Terry Fader is likely low. Oh, maybe not. But if you're in this vicinity of the United States, head over to the park created by the need for electricity and water for desert city residents. View the lake from above or around it and enjoy the days in safe fun spent in the hot Nevada sun.

Photo above: One of the many hiking trails at Lake Mead NRA. Source: National Park Service.





Lake Mead Then

Original inhabitants were the Anasazi and the Basketmakers in the Lost City prior to European settlement and that famous wrong turn. For the town of St. Thomas was born from thinking the Mormom settlers who poured into the area had found Utah, but they had not. The Mormon group stopped within the NRA boundary in a fertile valley of the Muddy and Virgin Rivers in 1865. They thought they were in Utah, were eventually discovered by Nevada officials who required five years back taxes, burned down their homes, and moved to Salt Lake City. Other settlers arrived in the 1880's, rebuilt the town, and eventually St. Thomas rose in population to five hundred people. This time, their fate would be in the hands of the federal government, not state officials with taxes to collect. In 1928, President Coolidge signed the authorization for the building of Hoover (Bounder) Dam, which would flood the town. They had seven years to leave before the town would start to flood, sinking sixty feet below the lake. Today, as in several droughts in the past, St. Thomas is dry and able to be visited. Guess you can't keep a good, even wrong turn town, down.



Lake Mead Now

It's been a lake since the 1930's after the announcement and construction of Boulder Dam, now Hoover Dam. Now there's recreation galore, campgrounds all over the place, hiking trails aplenty, horseback trails, and yes, all that water to wander around, ski atop, fish within, or just play around. You can rent your boat or bring your own. Be careful and obey all the rules of the park so you can enjoy your trip. Yes, there's lots of them.

If viewing history is part of any tour you take, you can even go back to St. Thomas and try to reconstruct the vision of those ruins into a vibrant town. And a jaunty sidetrip over to the Hoover Dam itself can be a real treat.

Photo above: Residents/scavengers making a trip back to the town of St. Thomas as Lake Mead overtakes the buildings, June 1938. Photo courtesy National Park Service.
Lake Mead NRA




1. The lakes are so big, if you're here for the first time, stop by the Alan Bible Visitor Center to get oriented, see exhibits, and find out what you'd like to do.

2. Take a Ranger guided walk or talk and find out more about the nature and history of Lake Mead. Check at the Visitor Center for the scheduled activities on the day you'll be there.

3. Take a drive. No, we're not talking a car boat. For those that like to look at the water, but not necessarily play in it, there are a variety of driving tours surrounding the lakes. Northstone Road takes you to red boulders, Pearce Ferry Road to Joshua Tree forests, and Lakeshore Road skirts the Boulder Basin area.

4. Hike the park trails, including the trail to the St. Thomas ruins site. No longer under water due to the drought, this submerged town contains the remnants of the thriving community that was once lost. It's like going to an archaelogical dig or actual City of Atlantis no longer under the Lake Mead sea. About two miles of walking with moderate elevation changes.


Sponsor this page for $100 per year. Your banner or text ad can fill the space above.
Click here to Sponsor the page and how to reserve your ad.
Visitor FAQ
What's There Now
Lake Mead NRA

Lake Mead Alan Bible Visitor Center - Located outside the park boundary near Boulder City off Route 93, the visitor center, built in 1966, includes exhibits on the lake, a relief map, and animals of the area. You can access the Historic Railroad Trail and the River Mountains Loop Trail from here.

Las Vegas Boat Harbor and Marina Complex - Located near the entrance station above the Visitor Center, this marina includes Lake Mead Cruises.

Lake Mead - One and one half million acres and one hundred and ten miles long. There are five hundred and fifty miles of shoreline.

Lake Mohave - Created by Davis Dam, this smaller lake is still sixty-seven miles long and retains more of the charm of the old Colorado River at some locations.

St. Thomas Town Ruins - Now reclaimed by the drought that dropped water levels, you can hike to the ruins of the original town of St. Thomas, once a thriving Mormon community along the Salt Lake City to Los Angeles route of the Arrowhead Trail. Located in the north Overton area of the park.

Photo above: Photo example of the St. Thomas ruins today, St. Thomas School House, and what it looked like before the lake consumed it. Photo courtesy National Park Service.
Lodging and Camping
Lodging - There are three resorts in the park with hotel/motel accommodations; Temple Bar Marina Resort (Lake Mead), Cottonwood Cove Resort and Marina (Lake Mohave), and Lake Mohave Resort (Lake Mohave) at Katherine Landing. Other lodging outside the park entrances are in Boulder City, Laughlin, Logandale, and Las Vegas. Check out your favorite online lodging site such as Expedia for the lodging type of your choice.

Camping - There are a variety of campgrounds surrounding Lake Mead and Lake Mohave. Some have RV hookups and showers; others do not.

Boulder Beach Campground (Lake Mead) - 146 sites, 5 group sites.
Lake Mead RV Village (Lake Mead) - 115 sites.
Las Vegas Bay (Lake Mead) - 86 sites.
Callville Bay Campground (Lake Mead) - 81 sites.
Callville Bay Marina (Lake Mead) - 5 sites.
Echo Bay Campground (Lake Mead) - 138 sites.
Echo Bay RV Village (Lake Mead) - 55 sites.
Temple Bar Campground (Lake Mead) - 153 sites.
Temple Bar Marina (Lake Mead) - 10 sites.

Willow Beach RV Park (Lake Mohave) - 37 sites.
Cottonwood Cove Campground (Lake Mohave) - 145 sites.
Cottonwood Cove Marina (Lake Mohave) - 72 sites.

Katherine Landing (Lake Mohave) - 157 sites.
Lake Mohave Resorts (Lake Mohave) - 24 sites.

Backcountry camping is allowed in the park. Fifteen days at one site, ninety days total for the year.
View before the flooding in St. Thomas of the Gentry Hotel, early 20th century. Photo courtesy National Park Service.


T-Shirts and Souvenirs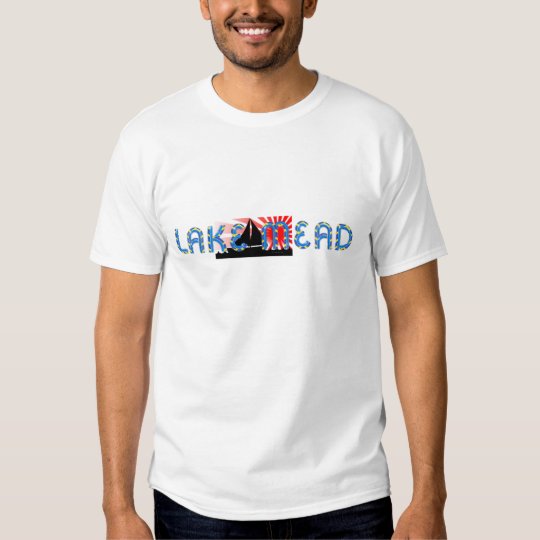 Lake Mead T-Shirts and Souvenirs.
Shop Now
Directions to the Park
Lake Mead has nine entrance stations and a Visitor Center located at 10 Lakeshore Rd, Boulder City, NV 89005. To get there from the central part of Las Vegas, take Route 515 South to Route 95/93 South. Take a left on Lakeshore Drive off Route 93. For other routes, check your favorite GPS or map program. Approximately 30 miles and a little over one half hour to get there, depending on traffic.