Wilson's Creek National Battlefield




Reenactors of the Battle of Wilson's Creek, south of Springfield, Missouri. Courtesy National Park Service.
Associate Pages
Visitor Statistics
Wilson's Creek National Battlefield

183,698 visitors
#198 Most Visited National Park Unit

Source: NPS, Rank among 374 National Park Units 2016.



Park Size

1,955 acres (Federal); 2,369 acres (Total)



Park Fees

Collected at Visitor Center - $5 per adult (16 or over); maximum $10 per car
No entrance fee when Visitor Center is closed.

Fees subject to change without notice.








Photo above: Reenactors at Wilson's Creek Battlefield. Courtesy National Park Service. Right: Lithograph by Allison and Kurz of the Battle at Wilson's Creek. Courtesy Library of Congress.
Wilson's Creek National Battlefield
West of the Mississippi River prior to the Battle of Wilson's Creek, the War Between the States had not yet begun. Oh, in many ways the days of Bleeding Kansas prior to Fort Sumter were the cause of its nexus, the rationale and arguement of what new states would be free or slave starting the whole shabang. However, a large scale battle had not yet been fought west of the Big Muddy during the days from Fort Sumter to Bull Run, ... that is, until August 10, 1861 when Wilson's Creek flowed with thousands of soldiers fighting on its banks. It would be the Battle of Bull Run of the western theatre and would signal more conflict to come in all theatres of the war and make Missouri the third most contested state in the Union. Yes, they were still in the Union.
Sponsor this page for $100 per year. Your banner or text ad can fill the space above.
Click here to Sponsor the page and how to reserve your ad.
Info
Then and Now
Things You Should Not Miss
The Battle of Wilson's Creek is not nearly as well known as its eastern counterparts, which is a shame. It was the first major battle of the west, the first battle where a Union general would be killed, and now contains a pristine landscape that easily denotes what happened there as you tour it. How large was this battle? Try 17,000 men; with more than double the strength on the Confederate side than the Union. What were the casualties? Almost an equal split of 2,500 in killed, wounded, and missing.

Nathanial Lyon was the Union commander of the Army of the West, which was stationed in Springfield (downtown Springfield today is about twelve miles from the National Park), who decided to attack Confederate forces, including state militia, at 5 a.m. on that August day, despite the fact that Missouri was trying to stay neutral in the conflict, although that neutrality was fragil at best and had been fraying for months.

Lyon would have initial success. However, that would not last. There would be three Confederate attacks, the death of General Lyons, and a retreat by Union forces, even though they had repulsed the Rebel forces for the six hours prior, but did not have enough reinforcemtns to continue.

It was a battle that gave confidence to the Confederate sympathizers in southwest Missouri, which they now effectively controlled by the South, even though the state, itself, would remain in the Union.


Wilson's Creek Then

Prior to the start of the Battle of Wilson's Creek, the Missouri neutrality was getting a difficult test, with a timeline of events that led to General Lyon and the attack twelve miles south of Springfield.



Timeline of Events Leading to the Battle


April 20, 1861 - Union becomes concerned when a Confederate mob siezed the Liberty Arsenel in Liberty, Missouri.
May 10, 1861 - Camp Jackson Affair. State troops called out by the Governor hold maneuvers on the edge of St. Louis, including secreted Confederate artillery. Union General Nathanial Lyon surrounded the camp and forced the surrender of the state volunteer militia.
May 11, 1861 - The Missouri assembly creates another military unit, the Missouri State Militia, to defend the state against both sides, although the focus was against Union forces.
May 12, 1861 - Price-Harney Truce negotiated, which stated that the U.S. Army and Missouri State Militia would cooperate with each other, although Governor Jackson was again secretly allying with Confederate forces to rescue them.
June 12, 1861 - Governor Jackson and General Lyon meet, but can not come to an agreement on state inspections or restrictions on federal troops. The meeting ended with Lyon stating, "This means war. In an hour one of my officers will call for you and conduct you out of my lines."
June 17, 1861 - Battle of Boonville.
July 5, 1861 - Battle of Carnage.
July 27, 1861 - Missouri Constitutional Convention, that had previously voted against secession, reconvenes, and strips Jackson of his governorship.



Wilson's Creek Now

The national park battlefield remains one of the most pristine in the National Park Service. The visitor center includes exhibits, a twenty-eight minute film, and a fiber optic map that shows troop movements. There are eight stops on the self-guided tour road, nearly five miles long, which takes you to such locations as the Ray House (open summer weekends), Sharp's Cornfield, and Totem's Battery. Along the road, five trails take you to various sites.
Wilson's Creek National Battlefield




1. Watch the twenty-eight minutes film and eight minute fiber optic map display before you go out on the field. These will not only get you up to speed on the history of the battle, but show you about troop movements that will give meaning to the vistas of the auto tour.

2. Visit the Ray House. This is the location where General Lyon was taken after he was wounded, and also served as a temporary field hospital after the battle.

3. Ask a ranger where the future members of Quantrill's Raiders would fight at Wilson's Creek. Yes, Frank James, William Clarke Quantrill, and Cole Younger fought here. But, no, brother Jesse James did not. He would join his brother Frank on the Civil War trail in 1864.
Visitor FAQ
What's There Now
Wilson's Creek National Battlefield

Visitor Center - Film, fiber optic battle display, facilities, and exhibits.

Ray House (photo above) - This summer interpreted site was the location where General Lyon was taken after the battle, despite being a Confederate Field Hospital. Somehow, the Union had forgotten to take the general with them during their retreat.

Seven mile walking and horse trail that leads off the Tour Road.

Photo above: Ray House at Stop #2 of the Auto Tour. Courtesy Wikipedia Commons. Above right. Reenactors of the Battle of Wilson's Creek in a cornfield. Photo courtesy National Park Service.
Directions to the Park
Wilson's Creek National Battlefield is twelve miles south of Springfield, Missouri. If you are taking Interstate 44, take Exit 70 onto Missouri Highway MM, then M (Route 60). At traffic light, turn right onto Highway ZZ for 1.5 miles, then left on Elm Street. You should be seeing signs for the battlefield by now. Yes, Missouri highway designations can be confusing.


Lodging and Camping
While there is no lodging or camping within the battlefield, Wilson's Creek is located only twelve miles from the third largest city in Missouri, Springfield, which has a population of 164,000. Most of the chain motels and hotels are located around there. Check out your favorite online lodging site such as Expedia for the lodging type of your choice.

Camping is not plentiful nearby, but there is a Springfield KOA. Other camping choices are more plentiful as you near Branson.
Historic lithograph by Oehmigke & Riemschneider of the Battle of Wilson's Creek, showing the death of General Nathanial Lyon. Image courtesy of the Library of Congress.
T-Shirts and Souvenirs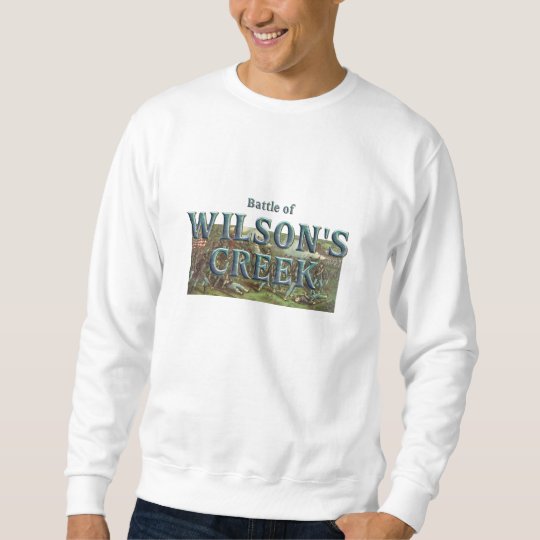 Wilson's Creek T-Shirts and Souvenirs.
Shop Now
More Photos of the Park
Above: Another view of reenactors engaging the enemy in the Missouri battle of Wilson's Creek. Photo courtesy National Park Service.