Photo above: Toadstool hoodoo off Highway 89. Courtesy Wikipedia Commons. Photo right: Grand Staircase-Escalante National Monument. Courtesy Bureau of Land Management/Bob Wick.
Grand Staircase-Escalante National Monument
It's so large, it might as well be a state. At one million seven hundred thousand acres, Grand Staircase-Escalante is an abundant collection of national lands protected as a monument in 1996, open for hiking, camping, fishing, and other recreation amongst vibrant natural wonders and cultural sites around every corner. Of course, with the current controversy over the 2017 decision to reduce its size, this Grand might become smaller by seven hundred thousand acres. Still too soon to tell how the courts will rule on that, but that shouldn't deter you from visiting. The park has become a bigger and bigger star amongst the myriad of national parks and monuments of the state of Utah with over nine hundred thousand visitors traipsing into the wilderness, or a visitor center, either on their own journey or on the way to Zion National Park, Canyonlands, or Glen Canyon National Recreation Area. If you tell folks who don't live in the area you went here, they likely won't have heard of it, but when you show your pictures, they'll start planning a jaunt past the better known to the land of of a staircase and outdoor recreation so broad, it might just be a state. Oh, no, repetition of theme again with acknowledgement the state might just become smaller. Alert your neighbors.
Sponsor this page for $100 per year. Your banner or text ad can fill the space above.
Click here to Sponsor the page and how to reserve your ad.
It's the largest National Monument in the Continental United States, surrounded by national lands of every size and designation; Bryce Canyon National Park, Dixie National Forest, Glen Canyon National Recreation Area, Capitol Reef National Park, and nearby others. Yes, there's so many acres saved here in the United States, that it would be a shame not to visit. Since President Clinton's designation as a National Monument in 1996, visitation and amenities have increased. There are three distinct areas of the park; the Grand Staircase, Kaiparowits Plateau, and the Canyons of the Escalante. It's a land of dinosaur fossils, with numerous found since the year 2000 alone, some 75 million years old.

Photo above: Willis Creek wandering through a canyon at Grand Staircase-Escalante. Courtesy Wikipedia Commons.


Grand Staircase-Escalante Then
Human History - While not having to reach back nearly as far as those creatures from the Dinosaur era, humans came to the area of the park around 500 A.D. They would have come from the Fremont and Puebloan cultures. Evidence of their farms, shelters, and rock art can be seen throughout the park. It wasn't until 1866 that white settlement approached. Later expedition, including the Second Wesley Powell Expedition in 1871, and the San Juan Expedition in 1879 brought more European settlers and explorers.


Grand Staircase-Escalante Now
Remnants of the past abound within the park from the petroglyphs and cave paintings of the tribes to the trails of the white settlers who traversed the land to towns nearby. You can visit the Paria Wayside, Old Spanish Trial and the Old Pahreah Town Site in the south. There's Dance Hall Rock in the east and Grosvenor Arch in the west.

Trailheads abound all over the place and take you into the interior of the park where the natural wonders take over. This is a wonderful place to explore on foot, horseback, or river raft. There are dozens of trails and sub-trails. Some interesting trails to check out, depending on your capacity:

Calf Creek Falls Trail (Northeast, Moderate) - 6 miles long starting in the campground, the trail passes pictographs from 1200 A.D., the Lower Calf Creek Falls, and the Upper Calf Creek Falls. There is a fee for the parking area.

Round Valley Draw (Northwest, Moderate) - 4.25 miles long southeast of the Cannonville Visitor Center. Interesting hike into the Entrance to the Slot and up the Mesa ascent.

Coyote Gulch (Southeast, Difficult) - A strenuous hike for only the most experienced, it's an 11.5 mile trek that most will overnight backpack on. You'll pass Steven's Arch, the Coyote Natural Bridge, and the Hamblin Arch, plus have to shimmy down a 50 foot cliff. Oh, boy.

Photo above: Petroglyphs and cave paintings at Grand Staircase-Escalante. Courtesy Bureau of Land Management/Bob Wick.

Grand Staircase-Escalante National Monument

Things You Should Not Miss
1. Stop in one of the Visitor Centers to get orientation for your day or days. It's a bit hard to explain how large Grand Staircase-Escalante is, but a visit to a park ranger, especially on your first visit, is important to get your bearings and find out what you want and are capable of doing.

2. Stay overnight, then hike a cool trail. A camp at Calf Creek Campground is a great starting point to one of the best hikes in the park. Calf Creek Falls Trail is green, wet, passes two falls and treks past stone that rises in unique forms around you. Must be hardy to take the trail, but it's not too bad in comparison with others around the park.

3. Drive the Hole in the Rock Road. It starts near Escalante and winds south for 55.5 miles. End of the road is 4-wheel drive necessary, and it will take you to the only point where pioneers could descend the canyon, 900' at the time, to the Colorado River with their wagons and supplies. It now goes down only 600' to Lake Powell. It's possible to hike that, but it is a difficult climb, so for most, the drive to see it will suffice. Road is dirt.

Photo above: Another sky and nature scene at Grand Staircase-Escalante. Courtesy Bureau of Land Management/Bob Wick.

T-Shirts and Souvenirs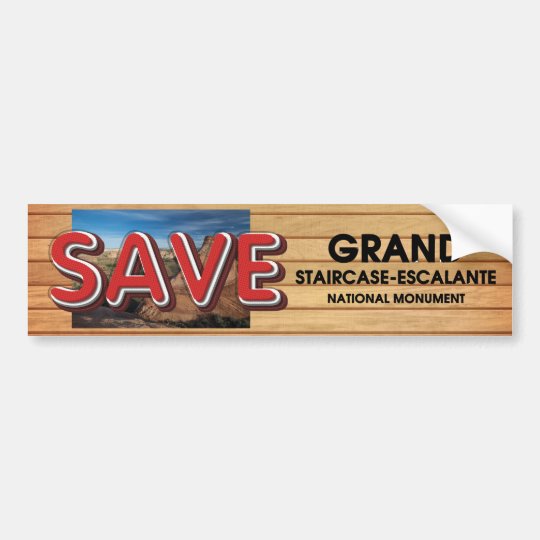 Save Grand Staircase-Escalante National Monument from downsizing and other National Park T-Shirts and Gifts from the official souvenirs of America's Best History. Great for nature, national park, and heritage history fans.
Shop Now