Photo above: The powder magazine in a historic photo from Fort Spokane. Date unknown. Photo courtesy Library of Congress, Historic American Buildings Survey. Right: Scene from the water of Lake Roosevelt NRA. Photo courtesy National Park Service.
Lake Roosevelt NRA and Grand Coulee Dam
Double up your history in a water world of hydroelectric power, recreation, Indian heritage, and the Works Progress Administration's need for power and work. Today, the Grand Coulee Dam is the largest provider of hydro power in the United States, and the lake formed behind it, one hundred and thirty miles of boating, camping, and old world and new world history. Beneath it lies a fort. Above it lies a fort. All around it lies the stories of the tribes in the area; Colville, Spokane, Lakes, Sanpoil, and Nespelem, who would come to the shores of the river and fish for salmon, and the white settlers who would come to convert them or pan for gold. And today, you can also visit the dam for a tour or laser light show, and learn how man could harness a river, and change the landscape, then create rivers of light and sound to tell you about it.
Sponsor this page for $100 per year. Your banner or text ad can fill the space above.
Click here to Sponsor the page and how to reserve your ad.
Lake Roosevelt and Grand Coulee Dam Then
At one time, the tribes of the area would roam, nomadic bands searching the seasons for fish and harvest. Then European settlement came and changed all that. There would be reservations for each tribe, negotiated in three 1855 treaties; Point Elliot, Yakima, and Hells Gate. Today, those reservations, as well as others negotiated in the coming decades, surround the park; Colville Indian Reservation to the west and Spokane Indian Reservation to the Southeast. But the river still ran for decade after that change, until depression came and the Works Progress Administration saw a need for power. Grand Coulee Dam was built with twelve million cubic yards of concrete; three times larger than Hoover Dam. It would create recreation space on both sides of the lake behind that dam in Lake Roosevelt, with nature and wildlife on the river and its shores. Yes, shores that were changed since the nomadic days of the tribes.

Fort Colvile - No, it's not Fort Colville, another similarly named fort. This one was a Hudson Bay Company fort built at Kettle Falls in 1825 and expanded to a two hundred acre fort and farm by 1841. The discovery of gold in the area caused problems in the 1850's, with settlers calling for troops to protect them by 1857. A year later, six hundred plus Indians defeated a troop of two hundred soldiers, although the victory was short-lived. Colonel George Wright and his Army troops would end the war in two successive battles, kill eight hundred Indian horses, and hang fifteen warriors.

Fort Spokane - This fort was the final fort built in the Northwest, with twenty-five buildings constructed by 1884. It would grow even larger, including fifty buildings with barracks, guardhouses, barns, chapels, and a hospital. Located where the Spokane River and the Columbia River meet, the fort was decommissioned in 1898 with the outbreak of the Spanish American War and turned over to the Coleville Indian Agency.

St. Paul's Mission - A Jesuit mission established in the Hudson Bay Company's Columbia district near Kettle Falls and Fort Colvile with the first missionaries arriving in 1836 to convert the Indians. It did not work. Some were baptized, but a permanent mission was never established. A small log chapel was built in 1845, replaced by a larger one in 1847. The mission was eventually abandoned, with the last service in the church occurring on August 14, 1875.

Grand Coulee Dam - Built between 1933 and 1941, it is three times larger than the more famous Hoover Dam and was constructed to provide power and irrigation to Washington State and the northwest United States. Nine other dams were also considered for construction along the Columbia River at the same time.

Photo above: The stable at Fort Spokane, date unknown. Source: Historic American Buildings Survey, Library of Congress. Below: Grand Coulee Dam. Courtesy Wikipedia Commons.


Lake Roosevelt and Grand Coulee Dam Now
Today, you'll visit a blend of nature, history, and progress. It's a bit of an odd combination. The Grand Coulee Dam Visitor Center will provide you with exhibits on its construction, electrical power, the area prior to its massive concrete build, plus a laser light show. Lake Roosevelt provides a location to camp, fish, boat, and wade into its water. The shoreline, plus the tribal lands nearby, will allow you a glimpse into forts built for trade and protection, missions where conversions were sought, and life before and after reservation. Yes, an odd blend, but an interesting one.

Fort Colvile - Now beneath the lake with several markers on the bluffs above the water.

Fort Spokane - No longer used by the government in 1929, by 1960, the remaining four buildings (stable, powder magazine, reservoir, and guardhouse) would become and are still part of Lake Roosevelt National Recreation Area.

St. Paul's Mission - The 1847 log church built by Father Ravalli still remains today. It was restored to its current appearance in 1939.

Grand Coulee Dam - The dam in the largest provider of hydro-electric power in the United States today. It produces over 21 billion kilowatt hours of electricity per year. A third power plant was built between 1967 and 1974.


T-Shirts and Souvenirs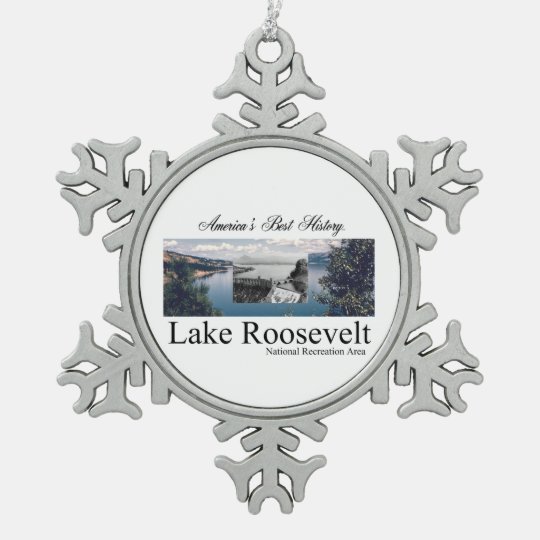 Lake Roosevelt National Recreation Area and Grand Coulee Dam T-Shirts and Souvenirs. Official gear from America's Best History.
Shop Now
Lake Roosevelt and Grand Coulee Dam

Things You Should Not Miss
1. Sure, if you're here, you probably want to boat, but if there's a history buff in the crowd, head over to both St. Paul's Mission and Fort Spokane. Four original buildings remain at the fort, and one at the mission. Sometimes there's a guided tour of the fort or other ranger program ... take that, too. And if you'd like to boat over a submerged fort, Fort Colvile is beneath the lake just north of St. Paul's Mission and the location of Kettle Falls.

2. Take the Grand Coulee Dam tour. It's about fifty minutes long and departs from the Visitor Center below the dam. Shuttles will take you to the generator station and end by whisking you across the dam itself. There's also a good movie, "Columbia, the Fountain of Life," and exhibits in the Visitor Center. Don't miss them either.

3. Since 1989, a laser light show has been lighting up the Grand Coulee Dam at night. The current incarnation, titled "One River, Many Voices" is a treat with narration, lights, and music. Shown between Memorial Day and September 30. Can be viewed from bleachers in the Visitor Center area or from across the river.

Photo above: Lights shining on the lower dam surface, location of today's laser light show on Grand Coulee. Courtesy National Park Service.

Check out the baseball site with stats you can get nowhere else, statgeekbaseball.com.