Santa Monica Mountains National Recreation Area




Boney Mountains from Zuma Canyon. Courtesy National Park Service.
Associate Pages
Visitor Statistics
Santa Monica Mountains National Recreation Area

707,566 visitors
#97 Most Visited National Park Unit

Source: NPS, Rank among 378 National Park Units 2019.



Park Size

23,620 Acres Federal; 156,618 acres Total



Park Fees

Federal Sites within the NRA - Free
State, County, Other Sites - Various fees.
Camping fees additional.

Fees subject to change without notice.



Weather

They say the climate here is Mediterranean, but it's really just suburban Los Angeles with the vagaries and differences that being in the mountains or along the ocean bring. Think hot and dry summers and wet and cool winters. As always, be prepared for the weather by staying aware of conditions through local weather forecasts.

Photo above: Santa Monica Mountains in Malibu Creek State Park. Right: Clouds above the mountains from Yerba Buena Road. Photos courtesy National Park Service.
Santa Monica Mountains National Recreation Area
Sometimes it's hard to believe there's so much recreation not far afield from the Los Angeles suburbs or that Santa Monica should be known for more than its beach or pier, but the Santa Monica National Recreation Area certainly alays that notion in its variety of pursuits and history. There's eleven California State Parks here, a federal recreation area run by the National Park Service, and yes, there's still that beach and pier, although the pier isn't technically part of the National Recreation Area. It's a bit hard to handle, from a knowing where to go aspect, unless you've been there before. So popping into the Interagency Visitor Center will bring orientation into better view, whether you want to hike, visit history, or go to the beach.


Sponsor this page for $100 per year. Your banner or text ad can fill the space above.
Click here to Sponsor the page and how to reserve your ad.
Santa Monica Mountains Then
Chumash and Tongva Culture - Both used the area, reaching back ten thousand years, hunting in the mountains, fishing in the oceans, and using the woodlands for their crafts and food. The Chumash resided in the Santa Ynez Mountains to the Channel Islands; their name meaning bead maker or seashell people. Prior to the mission era, they lived in one hundred and fifty independent villages. First contact with Europeans, 1542, with the Cabrillo expedition. Spanish settlement in the area began in 1770. The Tongva migrated to Southern California from Nevada 3,500 years ago; they, like the Chumash, were confronted with European settlement when the Mission San Gabriel Arcangel was established in 1771. They numbered about five thousand strong at that time. The estimate of the Chumash population when the mission period began ranges from ten to fifteen thousand.

Movies - Yes, this will not be that surprising, but in 1927, Paramount Studios, who had been leasing the area since 1923, bought two thousand seven hundred acres of the Santa Monica Mountains to establish a western movie ranch at Rancho Las Virgenes. For twenty-five years it was at its zenith, then became reborn in 1953 when a permanent Western Town was built on a portion of the property for television show productions. The land changed hands a number of times, into the National Park Service in 1980, but that did not change its purpose. Dr. Quinn Medicine Woman was filmed there, and it's still used today, either by film companies or your tourist journey.

Santa Monica Beach - Santa Monica pier was estalished in 1909, but the beach, of course, has been there throughout the Chumash/Tongva, Spanish Mission, and modern periods of Santa Monica history. During the early part of the 20th century, a portion of Santa Monica Beach was reserved for African Americans, one of the few California beaches that allowed access. Today, the beach is a California State Park operated by the City of Santa Monica. How much has Santa Monica itself grown? In 1880 the population was 417; in 1890, 1,580. Today, 89,736. The coastal strip began to reap development in 1895 when Abbot Kinney bought the strip and opened Ocean Park. By 1909, the first pier, Santa Monica Pier, was under construction, and at one time, five piers graced the Santa Monica beach area. Only the Santa Monica Pier remains.

Photo above: View of the beach at Santa Monica and the concession area, 1890. Courtesy Los Angeles Public Library Photo Collection via Wikipedia Commons. Below: Santa Monica Mountains in the distance from Santa Monica Beach. Source: National Park Service.


Santa Monica Mountains Now
The California State Parks have been around for awhile, with the National Park Service new in 1978, leaving such a variety of pursuits that it's hard to imagine. You can wander around that movie set, hike the five hundred miles of trails, go to beach, even step out of the National Recreation Area to seek the amusements of Santa Monica Pier. When you're talking trails, there are small loop trails at many locations, as well as the Backbone Trail, a sixty-five mile trail that follows the ridge of the Santa Monica Mountains. The National Park Service leads a guided hike of that trail from January to April in eight segments. Advance registration is required.

As we noted before, this is a park run by many entities, with jurisdiction over different areas. The National Park Service runs the areas of Arroyo Sequit, Cheeseboro and Palo Camado Canyons, Circle X Ranch, King Gillette Ranch, Paramount Ranch and Western Town, Peter Strauss Ranch, Rancho Sierra Vista/Satwiwa, Rocky Oaks, Solstice Canyon, and the Zuma and Trancas Canyons.

There are eleven California State Parks within the National Recreation Area; Malibu Creek State Park, Leo Carrillo State Park, Point Dume State Reserve, Point Mugu State Park, R. H. Meyer Memorial State Beaches, Baldwin Hills Scenic Overlook Malibu Lagoon State Beach, Topanga State Park, and Will Rogers State Historic Park.

The Mountains Recreation and Conservation Authority has authority over Charmlee Wilderness Park, Corral Canyon Park, Franklin Canyon Park, Los Angeles River Center and Gardens, Malibu Bluffs Open Space, Marvin Braude Mulholland Gateway Park, San Vicente Mountain Park, Temescal Gateway Park, and Upper Las Virgenes Canyon Open Space Preserve.

Even the City of Los Angeles gets into the act with Griffith Park, Runyon Canyon Park, and Zuma Beach County Park.

T-Shirts and Souvenirs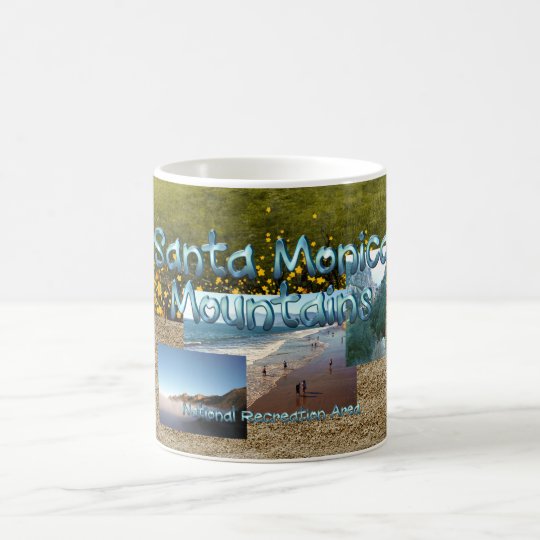 Santa Monica Mountains T-Shirts and Souvenirs.

Shop Now
Santa Monica Mountains

Things You Should Not Miss
1. Head to the mountains. There's so many different areas to check out. From south to north, work your way from San Vicente Mountain Park to Topanga State Park to Red Rock Canyon Park to Zuma Trancas Canyons, then Point Magu State Park. You'll only be scratching the surface with those mentioned, but it's a start. Lots of trails to hike, ride a horse, mountain bike, and more. Check at each location where they're allowed, and stay hydrated and safe.

2. Head to the beach. Hey, it's Santa Monica and Malibu, so there's got to be some time to spend on the variety of beaches here. From pocket beaches El Matador State Beach, La Piedra State Beach, and El Pescador State Beach to the broader expanses of Zuma Beach and Santa Monica Beach to the surfer loved Malibu Lagoon State Beach.

3. It's a unique location for hearing some music, and at one time Johnny Cash and Willie Nelson performed here. Now, in the summer, take in a series of Tiny Porch Concerts at the Peter Strauss Ranch.

4. You've just got to head to Paramount Ranch. I know, the Hollywood area folks may be jaded to all things cinema, but to the tourist, well, it's just cool. And if you're lucky enough to be there during a Ranger at Night program, that's even better.

Photo above: Satwiwa historic sites within the Santa Monica Mountains. Source: National Park Service.
Paint the history of Baseball number by number in books and stats you can get nowhere else. Baseball Evaluation @ statgeekbaseball.com.

Visitor FAQ
What's There Now
Santa Monica Mountains
Visitor Centers
Antony C. Bielson Santa Monica Mountains Interagency Visitor Center - The place to start your recreation here, if you've never been. Run by the National Park Service, California State Parks, Santa Monica Mountains Conservancy, and the Mountains Recreation Conservation Authority, this Visitor Center will get you oriented to the federal, state, and local units within the park. There's free parking for two hours, restrooms, exhibits, and more, all housed in the historic stables of the King Gilette Ranch. It's good to go there just for that.

Satwiwa Native American Indian Culture Center - Located on the south end of Newbery Park, northeast section of the National Recreation Area, the center focuses on the Native American Culture of the area (Chumash Indians), plus the farming history of the region. Open weekends. Big Sycamore Canyon Trail follows the Chumash trade route to the Pacific from here. The Satwiwa Loop Trail starts here, too. It's only available to hikers. There is parking, restrooms, and water here.

Paramount Ranch - Yes, a still working western set of a movie studio, which you can wander through, and hike its trails.

Photo above: Santa Monica Mountains Interagency Visitor Center. Courtesy National Park Service.
Lodging and Camping
Lodging - There is no lodging, per se, within the park or its partner sites, but there are plenty of accommodations in this northern area of the Los Angeles metroplex. For nearby hotels, motels, and bed and breakfasts, check out your favorite online lodging site for the lodging type of your choice.

Camping - Inside the park, there is only one National Park Service site, the Circle-X Campground, but it is only available for groups of ten or more. State parks within the National Recreation Area do have individual sites available.

Leo Carillo State Park - Malibu area. Hike and bike 4 sites, inexpensive. Canyon Family, 134 sites, expensive.

Point Magu State Park - Malibu north. Variety of Hike and Bike and Family camping options, plus Group.

Malibu Creek State Park - 62 sites, both Tent and RV.

Topanga State Park - 8 sites, backcountry hike in only.

Photo above: Balance Rock along the Mishe Mokwa Trail. Photo courtesy Wikipedia Commons.
Directions to the Park
Technical address is 26876 Mulholland Highway, Calabasas, CA 91302. That's the Visitor Center, which is a good place to start, on the King Gillette Ranch. Best way to get there from downtown Los Angeles might be to take 101 N to Las Virgenes Road, Exit 32, go south to Mulholland Highway, and turn left. The Visitor Center will be on your right. About an hour from downtown, a little over thirty miles. The park itself is somewhat bound by two highways, the Pacific Coast Highway, Highway 1, along the ocean, and Highway 101 on the east side of the park. Check your GPS or favorite map program for the best way to get there from your exact location.

Photo above: Santa Monica Pier, 2012, Carol M. Highsmith. Courtesy Library of Congress. The pier is not technically within the National Recreation Area, but is adjacent to the Santa Monica beach.

About
America's Best History where we take a look at the timeline of American History and the historic sites and national parks that hold that history within their lands.

Photos courtesy of the Library of Congress, National Archives, National Park Service, americasbesthistory.com and its licensors.

© 2021 Americasbesthistory.com.