America's Best History Spotlight
On this page we're going to Spotlight the lesser known historic sites and attractions that dot the history landscape across the USA and are worth a visit if you're in their area. And while they may be lesser known, some are very unique, and will be that rare find. You'll be, at times, on the ground floor, or maybe even know something others don't. It'll be fun. Visit them.
Battle of Trevilian Station
We were reminded while visiting the new National Historical Park at Cedar Creek and Belle Grove by a reenactor, that not all battlefields get equal treatment, even if their contribution to the Civil War effort was high. And that is just where the Battle of Trevilian Station sits. It's the largest all cavalry effort of the war, occuring during the Overland Campaign on June 11-12, 1864.
Info, What's There Now, History Nearby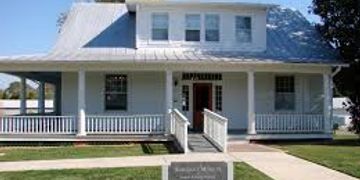 Battle of Trevilian Station, Louisa County, Virginia
The plan was for the Union cavalry under Phil Sheridan (photo above of Sheridan and his staff in January 1865, including left to right; Gen. Sheridan, Col. Forsyth, Chief of Staff Merritt, Gen. Devin, Gen. Custer) to destroy the Virginia Central Railroad, which had reached Louisa in 1838 and provided access to the rest of the county thereafter to resupply Lee's army, as well as give time for Grant to cross the James River. General Grant got the Union Army across the James, but Sheridan was unable to permanently destroy the railroad, although he certainly destroyed some of it on a less than permanent basis.

There were 9,200 Union cavalrymen in the battle and they sustained losses over 1,000; the Confederates had 6,700 in battle and lost somewhere between 600-850 men killed, wounded, and missing. Imagine that folks, a combined horse force of nearly 16,000 men.

Today, Trevilian Station remains a great, but lesser known preservation success, and is well worth a visit for Civil War buffs and anyone with a penchant for heritage tourism. The Trevilian Station Battlefield Foundation and Civil War Trust have saved over 1,700 acres of battlefield land for interpretation and are in the process of saving more.

Photo above: Sargeant Museum of Louisa County, which serves as the Trevilian Station Visitor Center. Courtesy Sargeant Museum.
Where Is It
From Richmond - About 55 miles from Richmond, take I-64 west for 43 miles, then north on Route 208. Route 208 is known as Courthouse Road. In Louisa, take Route 33/23 west (W. Main Street or Gordonsville Road).

What's There
Over 1,700 acres of battlefield saved by the Trevilian Station Battlefield Foundation and Civil War Trust A nine stop auto tour (10th optional).

How Much to Visit
Free

Hours Open
Driving Tour is open year round. Be mindful that much of the land that you travel past, beyond that owned by the Foundation and Civil War Trust, is private property. Sargeant Museum is open on a seasonal basis Monday thru Saturday.

Websites
Trevilian Station Battlefield Foundation
Civil War Trust - Trevilian Station
Sargeant Museum


History Nearby
Sargeant Museum of Louisa County History, Lake Anna State Park, Monticello, and Montpelier. There's Fredericksburg and Spotsylvania National Battlefield plus the other Civil War battlefields of that park, Chancellorsville and the Wilderness, plus the battle sites around Richmond.

Photo above: Sunken Road at Fredericksburg and Spotsylvania National Battlefield.


Photos, History, and More Spotlights